Our Veterinarians
All City Pet Care Veterinary Emergency Hospital has a team of skilled veterinarians to welcome you to our practice. Proudly serving the Sioux Falls area. At All City Pet Care Veterinary Emergency Hospital it is our daily privilege to provide quality vet care to your cherished pet, with compassion and competence. We hope to ensure a positive impact on our patients, pet owners and the local community.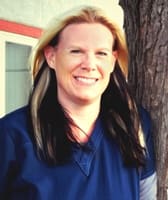 Dr. Heidi Nantke​
Managing DVM - ER
Dr. Heidi Nantke loves the challenge certain cases can bring and she works quickly to find a solution to an animal's ailment. Dr. Nantke started the blood donation program for dogs and cats at the Veterinary Emergency Hospital. Now, thanks to her, our hospital can provide sick patients with much needed blood products. She graduated with her Doctor of Veterinary Medicine from Iowa State University. Dr. Hanson is married to another veterinarian, Dr. Paul Nantke, and they have two boys. She also has two fur babies; one of them is a blood donor. In her spare time she likes to express her creative side doing art projects and gardening. She also enjoys being active and playing sports.
Dr. Mindy Klatt
Managing DVM - General Practice
Dr. Mindy Klatt is a graduate from Kansas State University. Having been with All City Pet Care South since 1998, she really enjoys the relationship she has with her long time clients and patients. Sharing the changes they go through during the life of their beloved animals is a tremendous experience. However she also looks forward to meeting the new people and creatures that walk through the door. Mindy and her husband enjoy following their two kids around for their numerous activities such as archery and taekwondo. They have a 16 year old dog, Sade, and recently said good bye to their beloved old cat, Elizabeth. Now they are waiting for a new cat to enlighten the household. She and her family keep busy with camping and other outdoor activities. In her free time Dr. Klatt likes to read, bake, cook, sew, garden and ensure the house is nice and clean.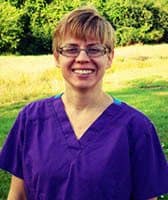 Dr. Heather Carlson
DVM
Dr. Heather Carlson received her B.S. in Biology from South Dakota State University and then achieved her Doctor of Veterinary Medicine from Iowa State University. She is excited about the fact that through work she is able to help improve the lives of pets and their families. She will take the extra steps to help a family understand any sickness a pet may encounter. Outside of the clinic Dr. Carlson can be found in the great outdoors going rock climbing, kayaking, hiking, gardening or paddle boarding. She is also very involved with her church and helping with their outdoor ministries in the Black Hills. Dr. Carlson is married with two children and has an extremely social black cat she adopted from the Humane Society.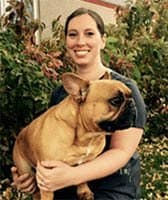 Dr. Kelsey Harris
ER DVM
Dr. Harris is one of our very talented ER veterinarians. She has a genuine kindness and caring that is clear from the very first moment she speaks with our clients and a very intuitive approach to injured or sick pets. She attended SDSU, where she received her B.S, and received her Doctorate of Veterinary Medicine from Iowa State University. She has recently moved back to her home town of Harrisburg, SD and shares her life with her husband Brandon, and her two children Sawyer and Lawson. They have two polar opposite dogs - a Great Dane named Rogue, and a Frenchie who goes by the name Manford (pictured.)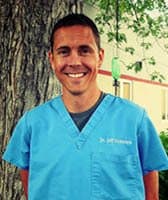 Dr. Jeff Heitman
DVM
Dr. Jeff Heitmann graduated with his B.S in Biology from SDSU, and then received his Doctor of Veterinary Medicine from Iowa State. He takes pleasure in the fact that he is able to support people and their pets through difficult situations, and he finds reward in seeing the turn around patients make under his care. He enjoys the orthopedic side of medicine and is great at walking families through the after care of what may seem like debilitating injuries. Dr. Heitmann is known around the clinic for his remarkable taste in music, creating fun playlists to listen to through the day. He enjoys running, playing with his children and watching a good movie with his wife, Allison. He also has a dog, and a cat.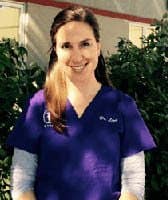 Dr. Liza Mendelewski
DVM
Dr Mendelewski, or "Dr. Liza" as she prefers, graduated from Wagner College in New York.  She hails from New Jersey, and received her Doctorate of Veterinary Medicine from Iowa State University.  Dr. Liza's passion lies in internal medicine- she enjoys the challenge of uncovering the clues that lead to better health and solutions for the ailments of her patients.  She strives to build long lasting relationships with pet owners and their furry family members.  She just moved to Sioux Falls from Iowa this last summer with her husband Kurt and their 2 dogs and 2 cats.  Her husband is also a veterinarian, and they were excited to move to Sioux Falls.  She was a talented collegiate soccer player, and enjoys playing soccer, volleyball, hiking, and being in the outdoors in her spare time.  
Dr. Melissa Schochenmaier
ER DVM
Dr. Melissa Schochenmaier enjoys the wide variety of patients she sees through the Veterinary Emergency Hospital and the fact that no two days are the same. She received her Bachelors Degree in Biology from Southwest State University in Marshall, MN and then went on to complete her Doctor of Veterinary Medicine degree from Iowa State University. When Dr. Schochenmaier isn't treating patients, she can be found spending the day outside with friends. She also is an excellent cook!